EVERYTHING YOU NEED TO KNOW ABout The MOVIE
See what the movie is all about.
THE MOVIE
The Rocky Horror Picture Show movie is a 1975 rock musical written by Richard O'Brien and directed by Jim Sharman. Inspired by old Sci-Fi / Horror, it is the most popular cult movie of all time and is still being played in theatres all over the world with a fan base that dresses up, throws stuff around and generally indulges in wild Audience Participation.
THE STORY
The story: Brad Majors and Janet Weiss are two lovely, naive virgins from Denton, U.S.A., who get engaged and drive off to tell Dr. Scott, their former teacher. However, on the way there, they get a flat tire and find themselves outside a Haunted Castle… and that's where things get really, really, really WEIRD.
They meet the servants, handyman Riff-Raff and his sister, Magenta the domestic, and groupie Columbia, who all live with Dr. Frank-N-Furter… a Mad Scientist, to be specific (from another planet) After being stripped down to their underwear, they are invited up to Frank-N-Furter's lab where he unveils his creation — the Brainless Beauty 'Rocky Horror'.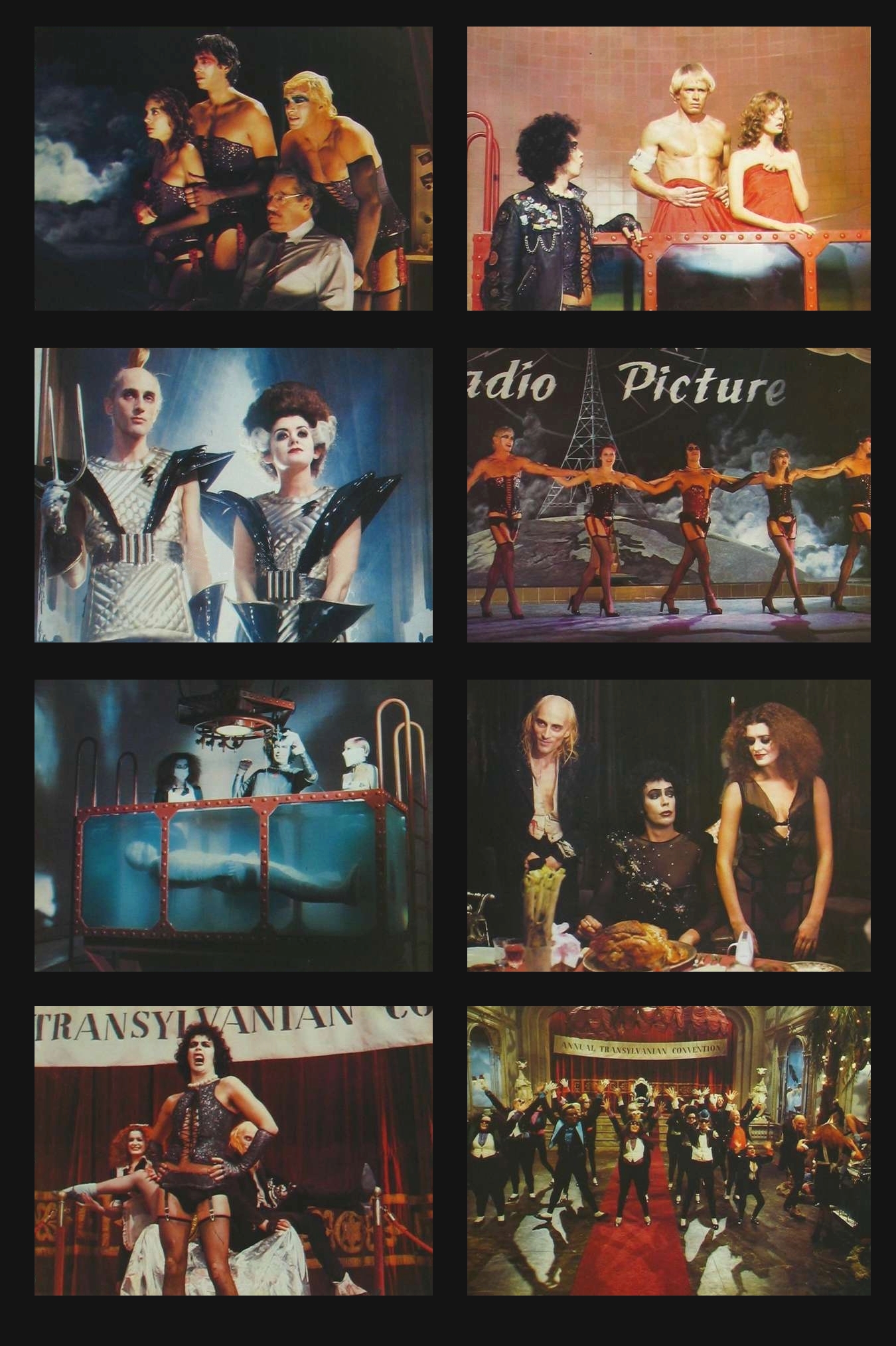 They are interrupted by a biker/ex-delivery boy Eddie, Columbia's lover, whom Frank-N-Furter had kept in the deep freeze. Brad and Janet are then shown to separate rooms, and Frank-N-Furter seduces the two in exactly the same manner; first entering their separate rooms in a Paper-Thin Disguise, then using his considerable charm and, well, skills, plus the fact they're both horny. Both victims are horrified afterward, and Janet wanders the castle till she finds Rocky (cowering from Riff Raff, who's been tormenting him) Realizing she's been cheated on by Brad, she takes an interest in Rocky, the handsome monster…
At this point, Dr. Scott appears looking for his nephew Eddie, while Janet and Rocky are found together. Frank-N-Furter invites them all to dinner… and wait 'til you see what's for dinner!​
Here is the wonderful cast for RHPS:
Tim Curry……………………………………Dr. Frank-N-Furter
Susan Sarandon……..…………………Janet
Barry Bostwick…………..………………Brad
Richard O'Brien……….…………………Riff Raff
Patricia Quinn…………………………….Magenta
Nell Campbell…………………………….Columbia
Jonathan Adams…….…………………Dr. Scott
Peter Hinwood…………………………..Rocky
Meat Loaf…………..…………….…………Eddy
Charles Gray……………………………….The Criminologist